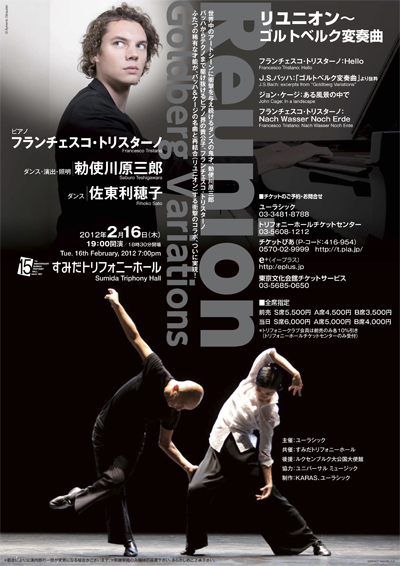 Francesco Tristano announces the one-night-only special performance of 'Reunion – Goldberg Variations' with Japanese dancers Saburo Teshigawara and Rihoko Sato on February 16th 2012 at 7 p.m. at Sumida Triphony Hall, Tokyo.
The program comprises Francesco's own compositions 'Hello' and 'Nach Wasser Noch Erde', John Cage's 'In a Landscape' as well as excerpts from J.S. Bach's 'Goldberg Variations'.
Tristano´s unconventional approach is shared by Japanese dancer and choreographer Saburo Teshigawara, internationally renowned for his performances spanning from classical ballet to visual arts. Teshigawara is the founder and director of  KARAS dance company.
Having had its premiere at the 2010 Laroque d'Anthéron International Piano Festival thanks to the festival's artistic director René Martin, this performance marks the first reunion of the project in Japan.
February 16, 2012 :: Open 18h30 Start 19h00 @ Sumida Triphony Hall
More info in Japanese here : http://www.eurassic.jp/reunion/