LATEST MEDIA
LATEST NEWS
May, 1st Francesco Tristano played his live set alongside M.A.N.D.Y., La Fleur and Hrdvsion at Boiler Room Berlin. The recording is now available on boileroom.tv!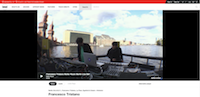 Tonight is the night! This year's edition of Weather Festival will be opened by Derrick May & Dzijan Emin feat. Francesco Tristano & Orchestre Lamoureux! Today at 11pm! Watch the live stream HERE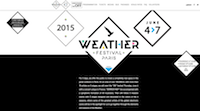 Francesco Tristano will be performing Sonar Festival 2015. Friday 19 03:25h – 04:25h Sónar by Night – SonarCar – LIVE Get your ticket and full information HERE!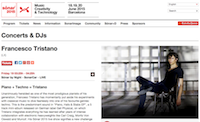 AGENDA
Francesco Tristano live! @ Stekker in het Park @ Voorfeldsde Polder
Francesco Tristano live! @ Naomi Club
Scandale with ALice Sara Ott @ Schloss Johannisberg @ Rheingau Musikfestival
Scandale with Alice Sara Ott @ Auditori de la Mercè
Francesco Tristano live! @ Space @ Vagabundos
FT live! @ Rote Sonne http://rote-sonne.com/ https://www.facebook.com/rotesonne
Francesco Tristano live! @ Pratersauna